The DORMA BTS 84 is a double action floor spring which has been specially developed for the aluminum and toughened glass door industries. This unit is intended to complement our internationally acclaimed RTS concealed overhead door closer by giving the shop-lifting industry the option of a DORMA quality floor spring designed for their particular purpose.
The BTS 84 has many of the features of the other DORMA BTS closers with the addition of reduced depth and an army of accessories designed for the aluminium door fabricator and toughened glass door manufacturer.
Why Dorma Brand?
• Thermoconnstant smooth operation.
• High mechanical efficiency for easy door opening.
• Optional single point hold-open.
WHY GLASS Swing Door?
Interior Glass Door are a way to bring more light to every room corner and create bright and modern interior design. Traditional and contemporary large interior Glass Door from the floor to the ceiling let inside plenty of light, visually increasing home interiors and giving the impression of lightness.
ontemporary interior Glass Door or charming French doors in traditional homes in classic style are beautiful and elegant elements of interior design.
MODEL: REH 100SR (Wall to Wall Frameless Swing Door)
Function
Swing Type
Add Ons (optional)
1. Rubber Seal
2. Shower Screen Handle
3. 6 Types of Header Series
4. Laminated Glass
5. Sandblast Glass
Feature:
Swing In/ Swing Out/ Both Way Swing
Shower Screen Hinge
Brass Chromed or SUS304 Stainless Steel *Upon Request
Being tested by PSB TUV SINGAPORE 50,000 opening cycles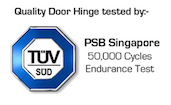 REH100
Wall To Glass Swing Door Type
Door Space Allocation
REH Series available in three different shapes: Wall To Wall Shower Screen : Model REH100, REH300; Diamond Shape : Model REH200 and L Shape : REH400. REH Series is the most commonly seen for swing type shower. It comes complete with a full 304 stainless steel top header system and functional Stainless Steel Towel L-Handle. With its simplicity, it has become part of Shower Screen's legend.
Size
An ideal size for a shower area is minimum 4′ Length and 3′ Depth. Wall To Wall Shower Screen will cover the length to prevent water splashing around while you shower. To do this, you will need to measure the opening between the walls, you can do a quick measure by calculating how many floor tiles it contains between the two walls (Standard tile size is 8 inches, 1 foot and 2 feet). With this measurement, you will be able to choose whether you want 1, 2 or three panel Wall To Wall Shower Screen.The standard height for a Wall To Wall Shower Screen is 1800mm (6 feet), however we can custom made just any size to your liking.
Design 
All of our Shower Screen are custom made and our experienced technician will do a site consultation to work out the best solution for you.
For a quick tutorial to how to design a great Wall To Wall Shower Screen, we provide you some tips as below:-
>> If your measurement between the walls is less than 900mm, we will recommend just one piece of door only
>> If your measurement between the walls is between 900mm~1500mm, we will recommend one fix panel and one door panel, which side for the fix and door panel to be placed subject to site allocation for your shower head, bathtub, WC, Basin and floor leveling. This will apply to both Swing Door Type and Sliding Type.
>> If your measurement between the walls is more than 1500mm, we will recommend 1 fix panel at each side with the door at the center. This will become a three-piece Wall To Wall Shower Screen.
Glass Material Type
10MM Tempered Glass HydroSafe™ Glass
RELIANCE HOME Glass is safety glazing material, conforming to the requirements of ASTM C 1048, ANSI 97.1, BS 6206, etc.
RELIANCE HOME Tempered Glass is more resistant to thermally induced stress and can, therefore, resist thermal shock which can cause ordinary annealed glass to crack.
RELIANCE HOME Tempered Glass is approximately 4 to 5 times stronger than ordinary annealed glass. It has a higher bending strength and is more resistant to impact.
With our latest technology of HydroSafe™ Lamination, our glass is made water repellent and anti-explosion to provide you a safe, cleaning less shower screen experience!