RS109- Bifold Framed Shower (Polystrene Panel)
PRODUCT SPECIFICATION
Frame 
Anodised / Aluminum Powder Coated (* using Dupont/ Jotun premiump ainting coating)
Function
Sliding Type (2 fix panel and 2 sliding panel from the corner)
Add Ons (optional)
Feature:
2 Panel sliding, Water Proofing, Rust Proof, Magnectic Closure Strip,
Premium S Handle

S SERIES Aluminium Full Frame Model 
RS 220
 is a 
L Shape
 corner entry shower system designed for corner wall shower area .The sliding door panel is fully framed to achieve 100% water proofing. The opening sliding panels are at the center with two other fixed panel at each other end side.The aluminium frame comes with a variety of color choices from Original Anodised to many other colors of Powder coating. The infil panel comes with different types such as 
Polystyrene
, 
Eco Panel
 and 
Tempered Glass
.RS series is full of freedom of design, no wonder everyone wants to have it.
Size
An ideal size for a shower area is minimum 3′ Length and 3′ Depth. Corner Entry Shower Screen will cover the length of the two corner wall diagonally to prevent water splashing around while you shower. To do this, you will need to measure the opening between the walls, you can do a quick measure by calculating how many floor tiles it contains between the two walls (Standard tile size is 8 inches, 1 foot and 2 feet). With this measurement, you will be able to choose whether you want 1, 2 or three panel Wall To Wall Shower Screen.The standard height for a Wall To Wall Shower Screen is 1800mm (6 feet), however we can custom made just any size to your liking.
Design 
All of our Shower Screen are custom made and our experienced technician will do a site consultation to work out the best solution for you.
Infil Panel Material Choice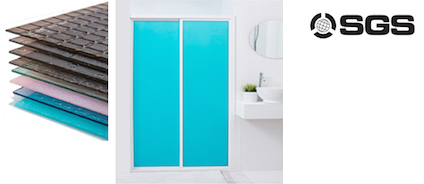 4MM POLYSTRENE PANEL *TAIWAN
One of the major benefits asspcoated with Polystyrene is its excellent insulating properties. They offer a much higher level of thermal resistance than traditonal fiberglass or cellulose insulation products. It comes in variety of texture and colors design. Conform to SGS quality test HV-2002-3-0020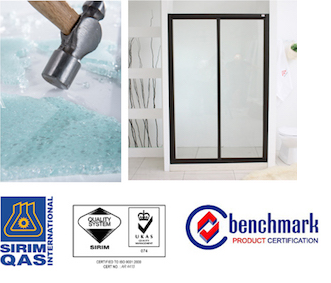 4MM Tempered Safety Glass
"GRADE A" 4mm Tempered Glass Reliance Home Tempered Glass is safety glazing material, conforming to the requirements of ASTM C 1048, ANSI 97.1, BS 6206, etc.
Eco Panel Collection
Eco Panel is also named as "picture glass" which comes in many graphic designs. In Reliance Home, we provide many designs to choose from.