| | | | | | |
| --- | --- | --- | --- | --- | --- |
| SW820 | SW823 | SW803 | SW843 | SW822 | SW807 |
| SW804 | SW823A | SW831 | SW824 | SW802 | SW825 |
| SW826 | SW827 | SW828 | SW812 | SW808 | SW824A |
| SW830 | SW813 | SW815 | SW831A | SW814 | SW832 |
| SW831B | SW829 | SW853 | SW816 | SW817 | SW806 |
| SW833 | SW805 | SW837 | SW811 | SW861 | SW810 |
| SW4055 | SW4058 | SW4055 | SW4049 | SW1539 | SW8129 |
| SW818 | SW829A | SW819 | SW820A | SW821 Full Lourves | SW820 1/4 Lourves |
Sleek, Simple, Space Saving
Frame
Aluminum Powder Coated (* using Dupont/ Jotun premiump ainting coating)
Infil Panel
1. 6.38 – 6.78mm Double Layer Laminated Glass (10 color choice) (SAFLEX PVB film imported from USA)
2. 4mm arcylic color panel (13 color choices)
3. Eco Panel * VOC FREE Eco-Friendly panel (> more than 5000 designs)
4. Polystrene Sheet (18 designs & color choices)
5. Tempered Glass
6. Aluminium Lourves (1/4. 1/2 or Full Lourves)
Function
Folding Type (Inward/Outward)
Sliding Door is often used in Kitchen Door or Toilet Door due to its space maximization. To install a Sliding Door, one must make sure there is a side space for the door to slide along.
Our Sliding Door is also known as suspended door, which the door panel is hung upon the top track to glide along, the main innovation of this door is trackless. which means there is no bottom track to glide this door as compared to the conventional once. Without bottom track, this door is free of track coordination problems. It is much more durable and clean without having to damage your floor caused by the installation of the conventional bottom track.
[twocol_one]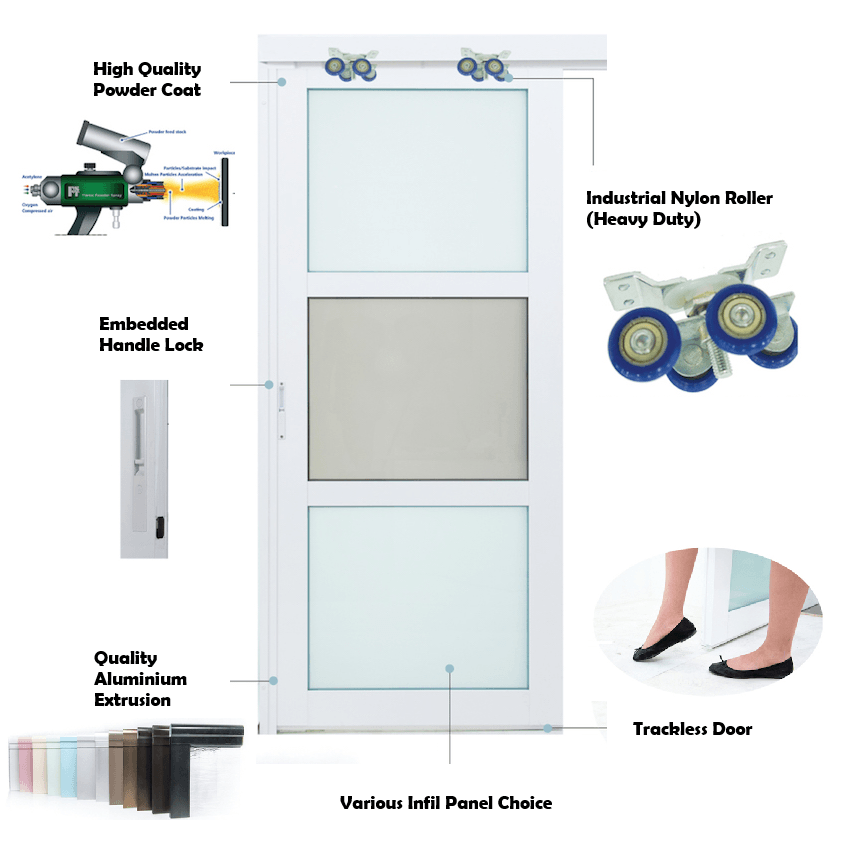 [/twocol_one] [twocol_one_last]
High Quality Powder Coat (Outdoor)
Thicker & better weather resistance Frame coating system
Embedded Handle Lock
Thicker and better wear tear resistance locking system
Quality Aluminium Extrusion
Our sliding door uses highest quality surface finishes. We only use promary aluminium billets, also ensuring constant mechanical properties
Industrial Nylon Roller (Heavy Duty)
Our rollers are made of finest quality nylon with multi labyrinth to provide an effective sealing support.
Maximum Panel Size: 4′ x 8′ high (1220mm x 2438mm H)
Maximum Weight: 80kg
Trackless Door
Our Sliding Door is suspended by 8 heavy duty nylon rollers. Without bottom track, door is free from any coordination gliding problem between top and bottom rack.
Infil Panel Choice
Laminated Glass
Acrylic Panel
Eco Panel Graphic