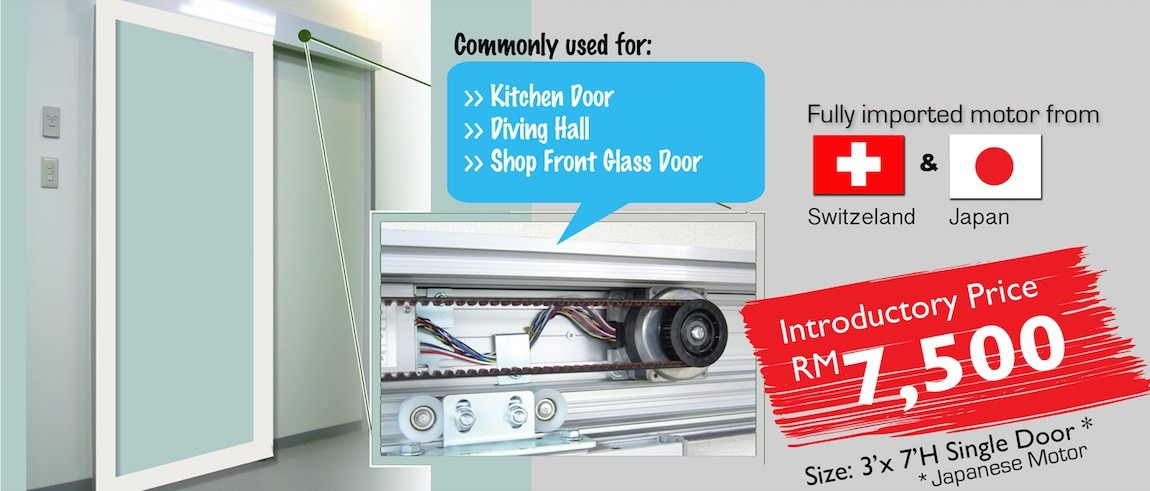 Step 1
Choose the types Door Functions:-
1. Fully Automatic Door Mode
(Radius Adjustable)
2. Semi-Automatic Door Mode
3. Manual Door Mode
Step 2
Choose Types of Door
1. Frameless Glass Sliding Door
(12mm Tempered Glass)
2. Framed Aluminium Glass Door
(6.38 Laminated Glass Door)
Step 3
Choose the Brand of the automatic
Sensor Engine
JAD Automatic Door (Fully imported from Japan)
Record Xplorer 3 (Fully imported from Switzerland)
Step 4
Choose the add ons
1. Upgrade to Switzeland Motor
2. Touch Switch
3. JAD EM Locking Device
4. Photocell Safety Beam
Step 5
Call us at 03-89623288.
Sit back and relax, our sales team will
take care the rest for you
Automatic Engine Model No ( 2 brands)
JAD Automatic Door ( Fully imported from Japan)
Record Xplorer 3 (Fully imported from Switzeland)
Types of Door
The automatic engine can be installed on:-
1. Frameless Glass Sliding Door
(12mm Tempered Glass)
2. Framed Aluminum Glass Door
(6.38 Laminated Glass Door)
Door Glass Thickness
6.38-6.78mm Double Layer Laminated Glass
Color Choice: Green, Blue Grey, Clear
12mm or 15mm Tempered Glass
Color Choice: Green, Blue Grey, Clear
Functions:-
3 operation modes to choose from:
1. Fully Automatic Door Mode (Radius Adjustable)
2. Semi-Automatic Door Mode
*Open a door sligtly by hand and the door opens automatically to the full end
3. Manual Door Mode
* Open and Close the door by hand. Even in this case, the dor moves very lightly with little
resistance.
Design
Hollow Type
T-Bar
Hollow T-Bar
Function
Automatic Sensor Door
Semi Automatic Door
Manual Door Mode
Add Ons (optional)
1. Upgrade to Switzeland Motor
2. Touch Switch
3. JAD EM Locking Device
4 Photocell Safety Beam
2 Brands Of Automatic Sensor Machine
| | |
| --- | --- |
| Xplorer Record Switzerland | JAD Automatic Door Japan |