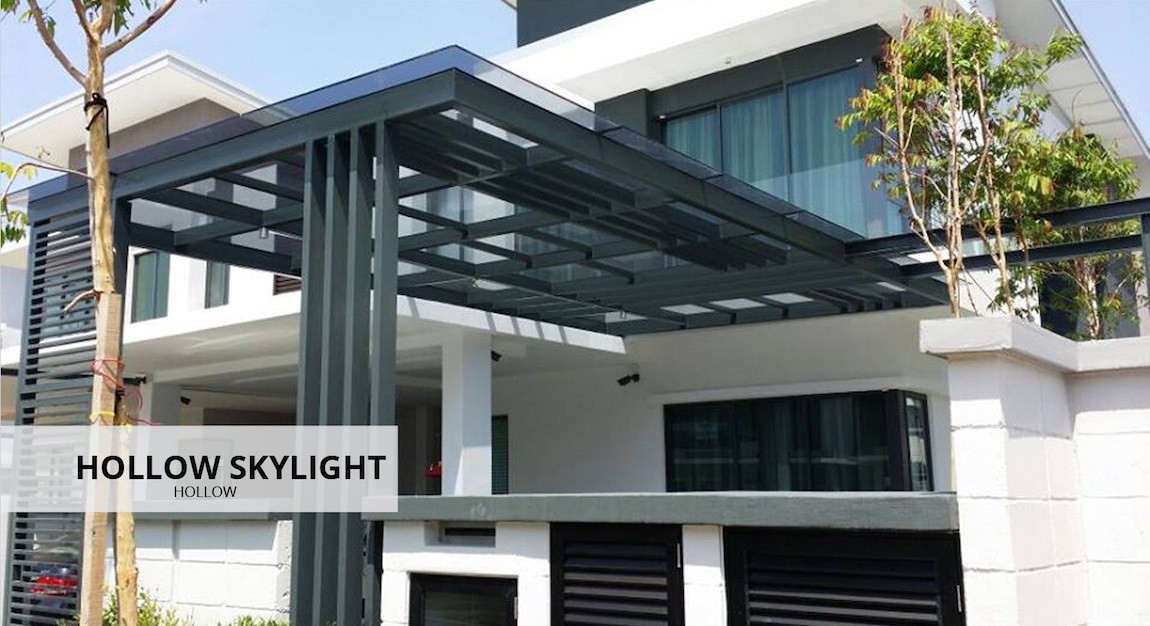 1. Hollow Type
2. T-Bar Type
Step 2
Descide the Size
1. T-Bar/Hollow only allows width from the beamup to 6′, more than 6′, pull string or pole is required for additional support
Step 3
Choose the add ons
1. Lourves Panel
2. Hollow Bar
3. Water Cutter
4. Roof Pull String
5. 1/2″, 2/8″, 1″, 2″ Lourves Hollow
Step 4
Call us at 03-89623288.
Sit back and relax, our sales team will
take care the rest for you
Model No:
HOLLOW SKYLIGHT
Frame: Metal Frame* Chemically treatd for Rust/Corroison
Frame Thickness: 1.5mm
Glass Thickness
12.38 – 12.78mm
Double Layer Laminated Glass
Color Choice: Green, Blue Grey, Clear
12mm or 15mm Tempered Glass
Color choice: ​Green, Blue Grey, Clear Design
Hollow Type
4″, 5″, 6″ Metal Hollow Type
1/2″, 2/8″, 1″, 2″ Lourves Hollow
Function: STATIC
Adds On (Optional)
1. Lourves Panel
​2. Hollow Bar
3. Water Cutter
4. Roof Pull String
5. 4″, 5″, 6″ Metal Hollow Type
6. 1/2″, 2/8″, 1″, 2″ Lourves Hollow
WHY GLASS ROOFING is great for you?
Skylight has been popular in the recent years as people are realiazing the power of the Skylight in harnessing the sun and flooding a space with dazzling natural light. Strategically placed, these stunning architectural elements bring the beauty of the outdoors inside while providing natural light throughout the home.
When you add a Skylight, you get a greater, more open visual feeling because the ceiling is no longer a solid block. It lends an architectural element to what's happening. A certain spacing or a certain decorative treatment around the Skylight can pull the ceiling in as a design element in the room.
Skylight can make a major contribution to energy efficiency and comfort, and can be installed in both existing and new homes. They are an excellent source of natural light: they can admit more than three times as much light as a vertical window of the same size, distributing it evenly, saving energy and improving your visual comfort levels.