There are several types of rail handle that Reliance Home offer which includes: Stainless Steel SUS304 and Solid Wood/Timber Handle.
In Reliance Home, we only produce glass railing system to the staircase. Staircase Glass railing not only gives away modern touch to your home but it create space and let you enjoy the full unblock view from the stairway to any part of the house. Staircase glass is made of 12mm Tempered Glass and comes in many types of clear color glass or frosted color glass. The most common colors used are clear glass and clear green, because the purpose of putting Staircase Glass is to provide unblocked view and modern touch. To complement our staircase glass railing system, we offer quality Staircase Handrail available in Stainless Steel SUS304 and Wooden/Timber materials that come in many shapes and wooden colors at your choice.
Please click the below icon for more information.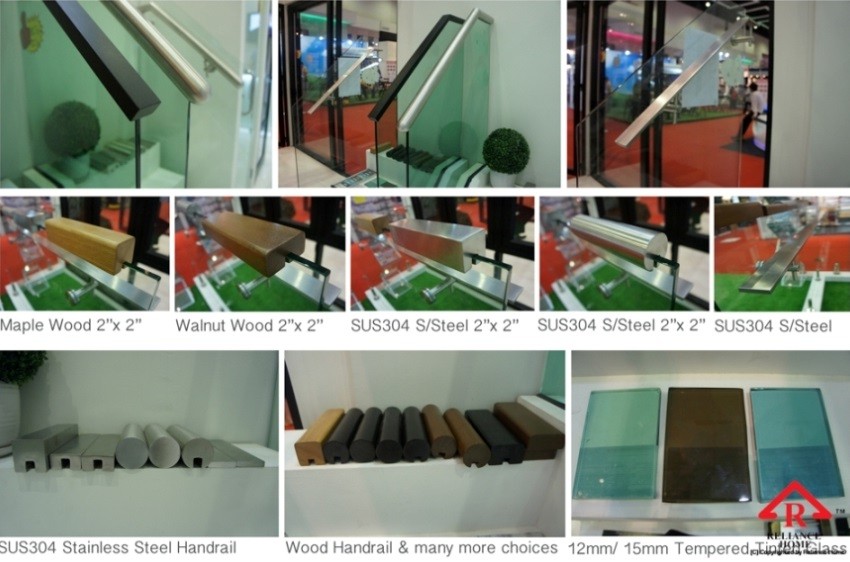 In Reliance Home, we always strive to produce modern, stylish and up to trend products to our clients.
There are two types of staircase handrail :
Embedded Handrail
Exposed Glass Holder Handrail
EMBEDDED HANDRAIL
Embedded Handrail is the type of handrail which is embedded to the glass itself without leaving any gap between the glass and the handle. This type of handle save more space as compared to exposed glass holder handrail and no glass holes needed to hold the handle.
| | | | |
| --- | --- | --- | --- |
| SUS 304 Stainless Steel Handrail | | Wooden Handrail | |
| | | | |