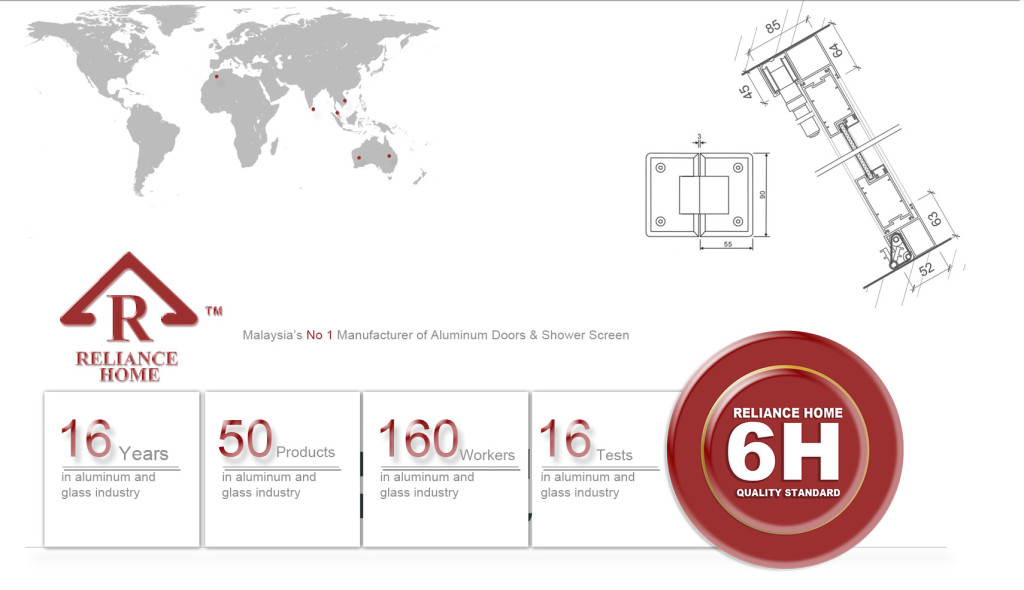 "诚信-马来西亚铝门和浴室玻璃第一品牌
RELIANCE HOME- "MALAYSIA NO 1 ALUMINUM DOORS &
SHOWER SCREEN MAKER"
Malaysia is a fast growing developing country in Asia. Backed by abundant natural resources and cultural essence, Malaysia has become one of the most popular exporter of Furniture and Renovation products, e.g., door Malaysia, etc., to all around the world.
Door plays a significant role in home renovation, as it is the only object to control the access to the home. In designing a door, we consider every important aspects of the door in terms of its feature, appearance, practicability, durability and opening mechanism. There are many types of doors created by Reliance Home such as Hinged Doors, Folding Doors, Sliding Doors which are perfectly suitable for toilet, bathroom, kitchen, walk in closet, living hall, garden hall and so on.
Reliance Home is the first company created Bi-fold door in Malaysia back in year 1999, with the rising of standard of living and market demand, Reliance Home has never slowed down ever to produce more and more door types to meet the market needs.
The company started with just Bi-fold Door, but now offering, a COMPLETE range of door types which includes: Suspended Sliding Door, Pivot Door, Foldable door for indoor and outdoor usage. These doors mainly produced by using Aluminum frames and all sort of panel choices such as Laminated Glass, Acrylic, Polystyrene and Fibered glass. We always want to give our customer the complete range of choices and full freedom of choosing their own design.
Doors in Malaysia have been a popular pick by many purchasers or importers in the door industry, due to its lower costs and innovative designs.
We are proud to export our products to many countries around the world.