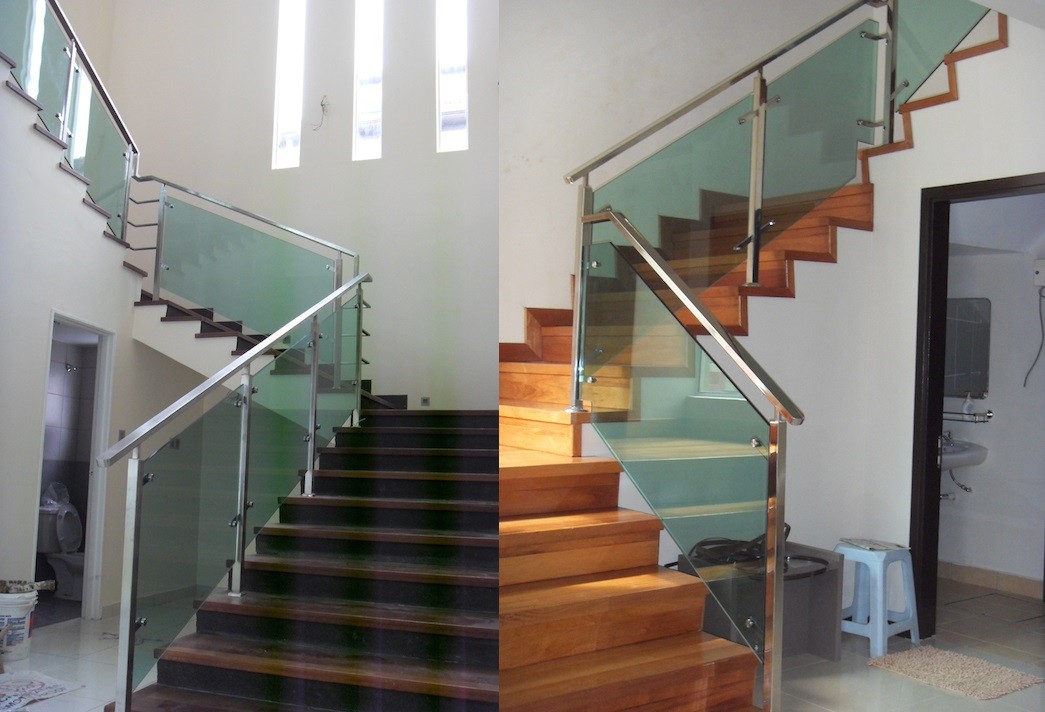 1. Glass Staircase 4S101
2. Glass Staircase 4S202
3. Glass Staircase 4S303
4. Staircase Glass 4S505
5. Staircase Glass 4S606
6. Glass Clip
7. Embedded U Channel
Step 3
Choose the add ons
1. Laminated Glass (Green, Blue, Grey, Frosted)
2. Sandblast Glass
Step 4
Call us at 03-89623288.
Sit back and relax, our sales team will
take care the rest for you
Staircase or stairway consists of steps that divide a large vertical distance into small proportion that connects each other till the destination. Conventional Staircase may be straight or round or maybe combination a few at certain angles.
In Reliance Home, we only produce glass railing system to the staircase. Glass railing not only gives away modern touch to your home but it create space and let you enjoy the full unblock view from the stairway to any part of the house.
Sandblast Glass is made of 12mm Tempered Glass. This Tempered Glass comes in many types of clear color glass or frosted color glass. The most common colors used are clear glass and clear green, because the purpose of putting staircase glass is to provide unblocked view and modern touch.
Tempered Glass is a strengthened or toughened safety glass that undergoes a process of thermal heating, which increase its strength compared with normal glass. Tempered Glass is minimum 5 times stronger than the normal glass. The glass shatters off when it breaks and reduces the injury as compared to normal glass.
Staircase Glass is certainly an eye-catcher in anyone's home. It is something that most people don't see everyday. If you are considering getting one for your place, think about the pros and cons listed below.
Benefits of a Staircase Glass
Of course, the unique factor is something that makes Staircase Glass desirable. In getting this sort of setup for your home, you can almost guarantee that it will be a different
feature than just about anyone else on the block. Glass has a modern feel to it that really fits into new homes, yet it is
versatile enough to work in existing structures as well.
Glass can also help a room feel a lot bigger because it doesn't have the same bulky look as traditional wood stairs. The transparent quality of the glass allows viewers to see the space for what it really is.
GLASS MATERIAL TYPE – 12MM /8MM Tempered Glass
​
RELIANCE HOME Glass is safety glazing material, conforming to the requirements of ASTM C 1048, ANSI 97.1, BS 6206, etc. RELIANCE HOME Tempered Glass is more resistant to thermally induced stress and can, therefore, resist thermal shock which can cause ordinary annealed glass to crack.
RELIANCE HOME Tempered Glass is approximately 4 to 5 times stronger than ordinary annealed glass. It has a higher bending strength and is more resistant to impact.

Staircase Glass "Adds a new element of style to your home"
Glass Staircase 4S101
Glass Staircase 4S202
Glass Staircase 4S303
Glass Staircase 4S505
Glass Staircase 4S606
Tab 2 content goes here.
Tab 3 content goes here.
Tab 4 content goes here.