Also known as Multi-Swing door, A great outdoor swing door needs to look good from the inside and also outside of your house and it also needs to be durable and most importantly be safe, especially the outdoor Multiswing Door.
Good quality Outdoor-Multiswing Door or swing door is always supported by its durable stainless steel door hinge which can support large panel of Glass Door. The bigger the panel, of course the better as you can enjoy bigger view without the obstruction of the door frame.
Benefits of Outdoor- Swing Door
Boasting a number of benefits when compared to a Sliding Door, Swing door undoubtedly boasts superior aesthetics when opened. Supersized outdoor-Sliding Door boast massive glass areas which completely open up a room or property, flooding it with light, and allowing you to enjoy views without the obstruction of the vertical transoms which are required on outdoor folding door.
Our Outdoor-Sliding Door consist of strong aluminium profile and Double Layer Laminated Glass to ensure that our systems operate effortlessly as well as ensure you years of reliability and security.
Our frame is powder coated into more than 20 color choices, and if this isn't enough we also create wood grain finish over the coating, this superb finish assures the look of the real timber is attained without the compromise of the quality of aluminium.
Our 6.38mm thickness of Double Layer Laminated Glass comes in many colors such as: Clear green, clear blue, clear brown, clear black to frosted white, frosted green/blue/brown/black and so on.
The combination of both the aluminium frame and Laminated Glass are so soothing and sleek looking, and almost maintenance free.
Tab 2 content goes here.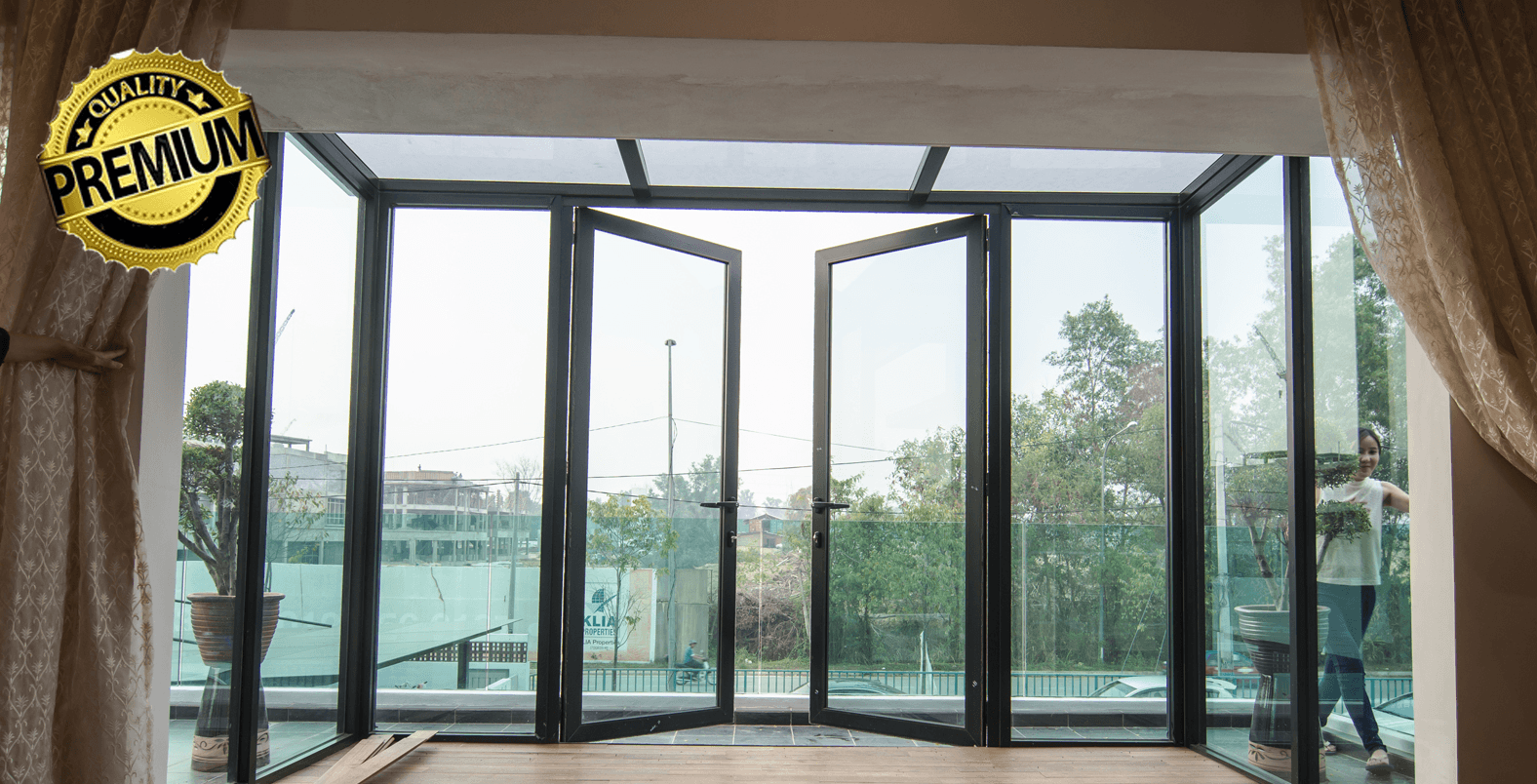 Application
1 or 2 leaf open out or open in door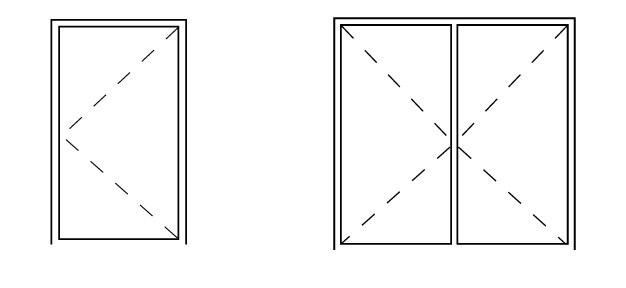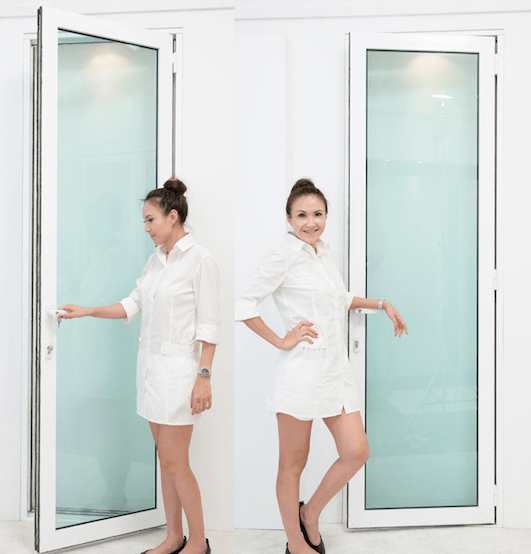 The Swing Door Universal Swing System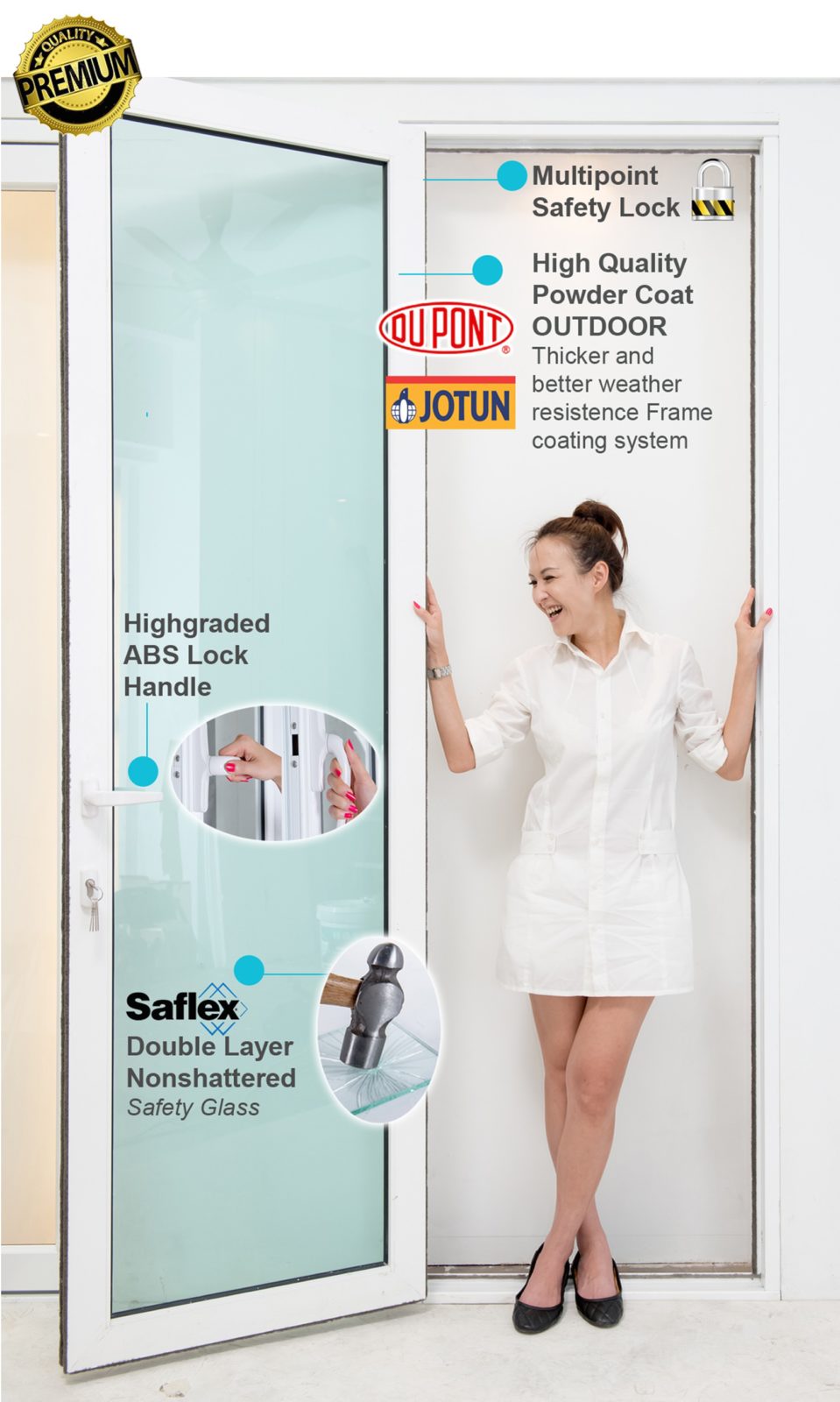 Multipoint Safe Lock
High Quality Frame Powder Coating OUTDOOR
Thicker and better weather resistance Frame coating system
Highgraded ABS Lock Handle
Saflex Double Layer Nonshattered Safety Glass