Product Description
Frame Finishes: Powder Coated Aluminium
Class: 6.38mm ~ 10.38mm Double Layer Laminated Glass
Function: Folder Type [Outward/ Inward]
Multifolding Door, or Bifold Doors, sometimes called foldable doors, or multifolding create a 90% clear opening which turns your outside space into another usable room for the house or business. They are a fantastic alternative as outdoor folding door than Sliding Door, which only offer a 40% opening.
Outdoor folding door has been gaining its favourite shares among homeowners and designers due to its flexibility and the ability to open space fully compared to other types of door.
Reliance Home Outdoor Multifolding Door Features:
~ Multi Point Locking System
~ Concealed of multipoint shute-bolts for ease of operation and security
~ Clean & Narrow Stile & Rail profile doors
~ Smooth & Stable roller system for the touch of comfort
~ Outward & Inward operating and stacking doors
~ Aluminium frame is available in many colors
~ Hardware finishes in stainless steel premium quality
~ Panel with double layer laminated safety glass
Our outdoor Multifolding Door enables maximum ventilation and light penetration when fully opened. When it is closed, it reduces noise and heat effection. The unique part of the outdoor Multifolding Door system is it allows users to fold and open the doors & to their desired scale.
Our outdoor Multifolding Door comes in aluminium frame, which is soft, lightweight but strong and durable. The strength of our aluminium profiles ensures our systems operate effortlessly as well as ensure you years of reliability and security. Aluminium frame can also be powder coated to any one of over 20 colours.
If this isn't enough, we also offer various 'sensational' colours which create a similar aesthetic effect to what you achieve with woodgrain finishes, which entails base powder coating the aluminium followed by melting the woodgrain finish over the coating. This superb finish ensures the appearance of timber is achieved but the performance of aluminium is maintained.
For more information, ideas, design consultation, etc., please feel free to contact us now at 03-8962 328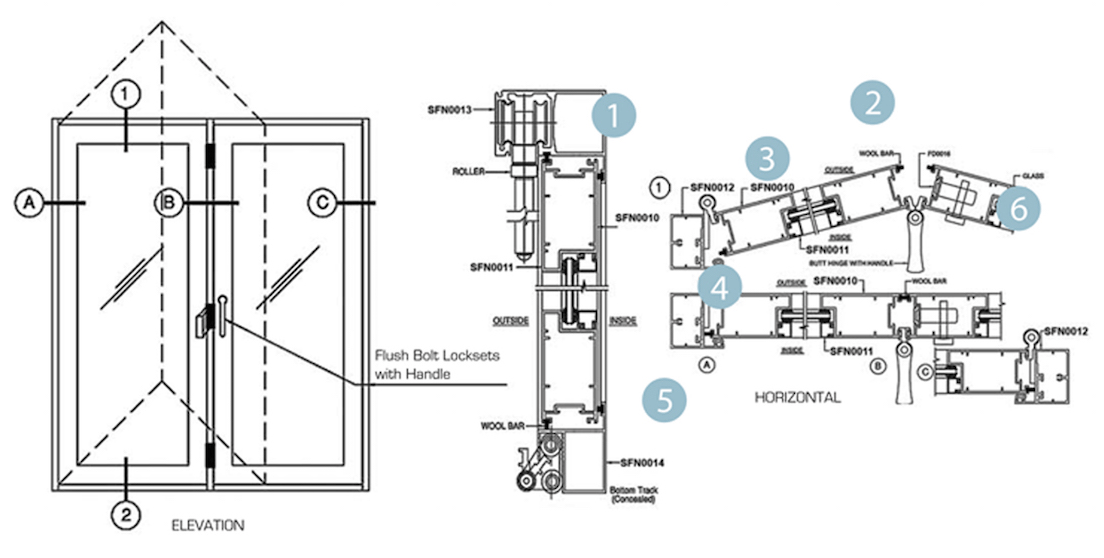 Aluminium Exrrussion Profile

SFN 0010
WT: 1.342kg/m (H)
AP: 328.43mm

SFN 0015
WT: 1.353kg/m (H)
AP: 325.32mm

SFN 0014
WT: 1.007kg/m (H)
AP: 283.01mm

SFN 0013
WT: 2.021kg/m (H)
AP: 473.23mm

SFN 0018
WT: 0.897kg/m (H)
AP: 251.29mm

SFN 0017
WT: 0.565kg/m (H)
AP: 218.87mm

SFN 0012
WT: 1.037kg/m (H)
AP: 221.49mm

SFN 0011
WT: 0.114kg/m (H)
AP: 97.86mm

SFN 0017
WT: 0.130kg/m (H)
AP: 49.13mm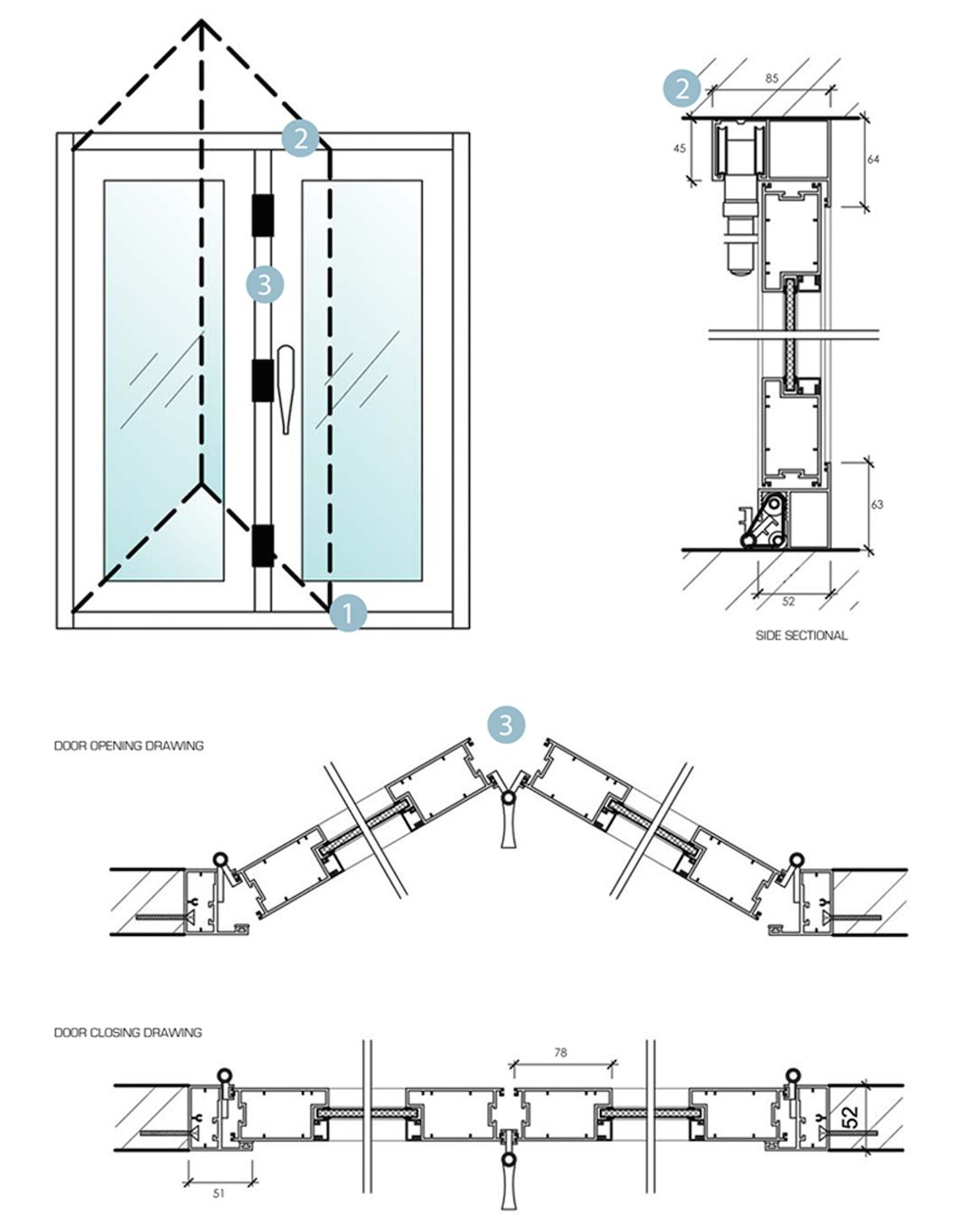 The Opening Mechanism

2 Door Series
No Of Panel 2 + 0

3 Door Series
No Of Panel 3 + 0

3 Door Series
No Of Panel 2 + 1

4 Door Series
No Of Panel 3 + 1

4 Door Series
No Of Panel 4 + 0

4 Door Series
No Of Panel 2 + 2

5 Door Series
No Of Panel 4 + 1

5 Door Series
No Of Panel 3 + 2

5 Door Series
No Of Panel 5 + 0

6 Door Series
No Of Panel 3 + 3

6 Door Series
No Of Panel 5 + 1
Other Frame Drawing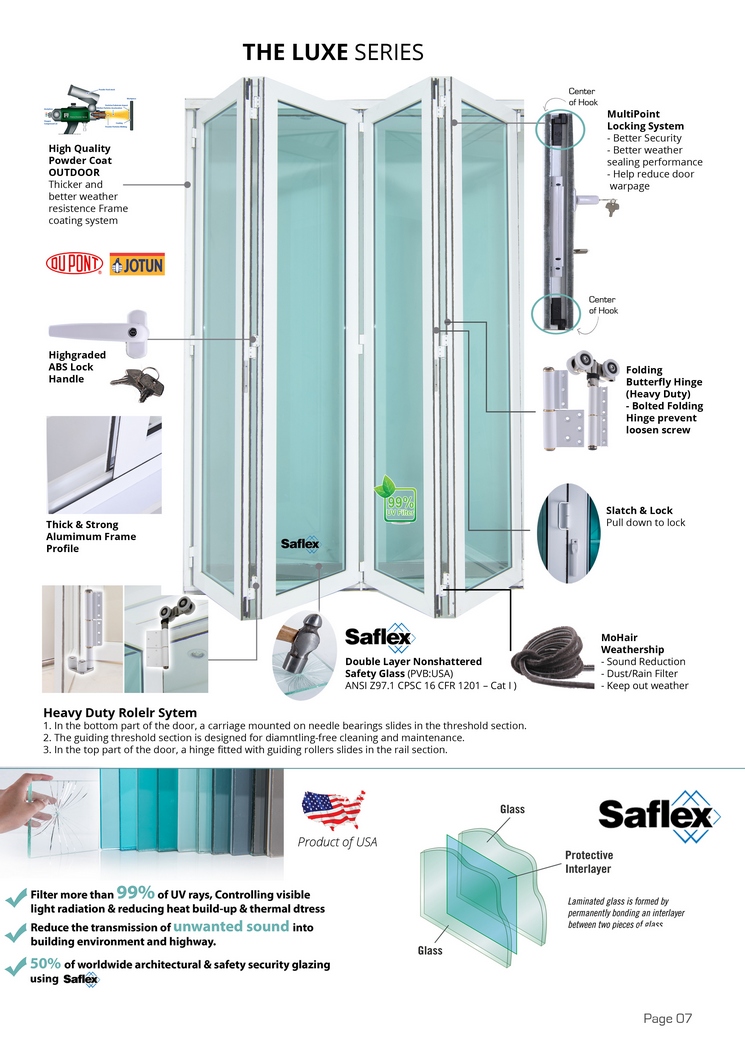 Thicker and better weather resistance frame coating
High Performance Carriage
1. In the bottom part of the door, a carriage mounted on needle bearings slide in the threshold section.
2. The guiding threshold section is designed for diamntling-free cleaning and maintenance.
3. In the top part of the door, a hinge fitted with guiding rollers slide in the rail section.
Double Layer Non Shattered Safety Glass (PVB USA) ANSI Z97.1 CPSC 16 CFR 1201 – CAT1
SOLAR – screen out 99% of harmful and damagin UV rays up to 380nm (=SPF50+) Protects delicated plants, fabrics, carpets, furniture.
SECURITY – security standard includes ASTM F1233/UL972 (forced entry), ASTM F1915 (forced exit) UL 752(bullet resistance)
SOUND – typical STC (sound transmission class) rating between 34 – 40* can reduce perceived noise by minimum 50%
Folding Butterfly Hinge
Bolted folding hinge prevent loosen screw.
Multi Point Locking System
Better security, better weather sealing performance, help reduce door warpage